Helpful tips to help live life a little better...

Watermarks on Wood
To remove watermarks from wood furniture, apply petroleum jelly and let it sit overnight. Then wipe the watermark petroleum jelly away with a dry rag.
11-27-19
Whitening Clothes Naturally
To help keep your clothes their brightest white, add 1/2 cup of any of these products to your normal wash cycle:
- Lemon Juice
- White Distilled Vinegar
- Hydrogen Peroxide
- Baking Soda
- Borax
For double duty, 1/2 cup vinegar & 1/2 cup borax to white laundry in wash cycle. Both will help brighten whites & vinegar will soften clothes.
To help restore dingy whites, presoak in 1/2 cup washing soda per 1 gallon of hot water, prior to washing.
5/13/19
Make $ off Electronics
Decluttr.com is a website that offers $ for electronics. The site tells you instantly what you will receive for items like smartphones, laptops, and CDs. If you're happy with the amount, sent the items for free and you will receive $ via direct deposit, PayPal, or check as soon as the next day.

A place for everything, everything in its place.
- Benjamin Franklin
4/3/19
3/15/19
10 Clever Uses for Single Socks
1. Potpourri bundle - Take a single sock, fill with potpourri, tie with ribbon or shoe string and place in drawer/s of choice.
2. Ease tension - Fill a long sock with 2 cups of rice and a few drops of essential oil of choice, then secure it with a tight knot. Pop it in the microwave for 30 seconds, and place behind neck, back or other areas of tension, for an aromatherapy treat.
3. Cut off cuff of sock and use as an arm band to hold phone while walking or working out.
4. Overnight moisturizer - Generously apply moisturizer to hands and feet before bed. Slip single socks over hands and feet to hold in moisture and prevent excess lotions/creams from getting on linen, face, etc.
5. Winterproof car - Slide long socks over windshield wipers before a snowstorm to prevent ice crystals from forming on blades.
6. Dryer Ball - Place a tennis ball inside a sock, tie a knot, and throw in the dryer. Tennis ball helps eliminate moisture, static electricity, and wrinkles.
7. Protect valuables - Use socks to pack fragile things, like glassware and ceramics, during a move, or to place in storage.
8. Cleaning - Slip a long sock around the base of your sweeper or mop to whisk dust from floor. Slip sock over hand and wipe across furniture for quick and easy dry dusting.Dip sock in bucket of multipurpose solution and water, wring out, place over hand, and quickly wipe down counters, toilets, etc.
9. Retrieve dropped items - Slide end of a vacuum hose into sock to pick up small jewelry, change, screws, nails, etc. without losing them into the vacuum.
10. Cut off cuff of sock and slide over wrapping paper rolls to keep paper in place.
2/1/19
Homemade Art
Artwork can come from anywhere...and the more meaningful, the more priceless. The following pictures were created from items I found in my father's home after his passing. I made these for friends and family.

12/1/18
Key Holders make great necklace holders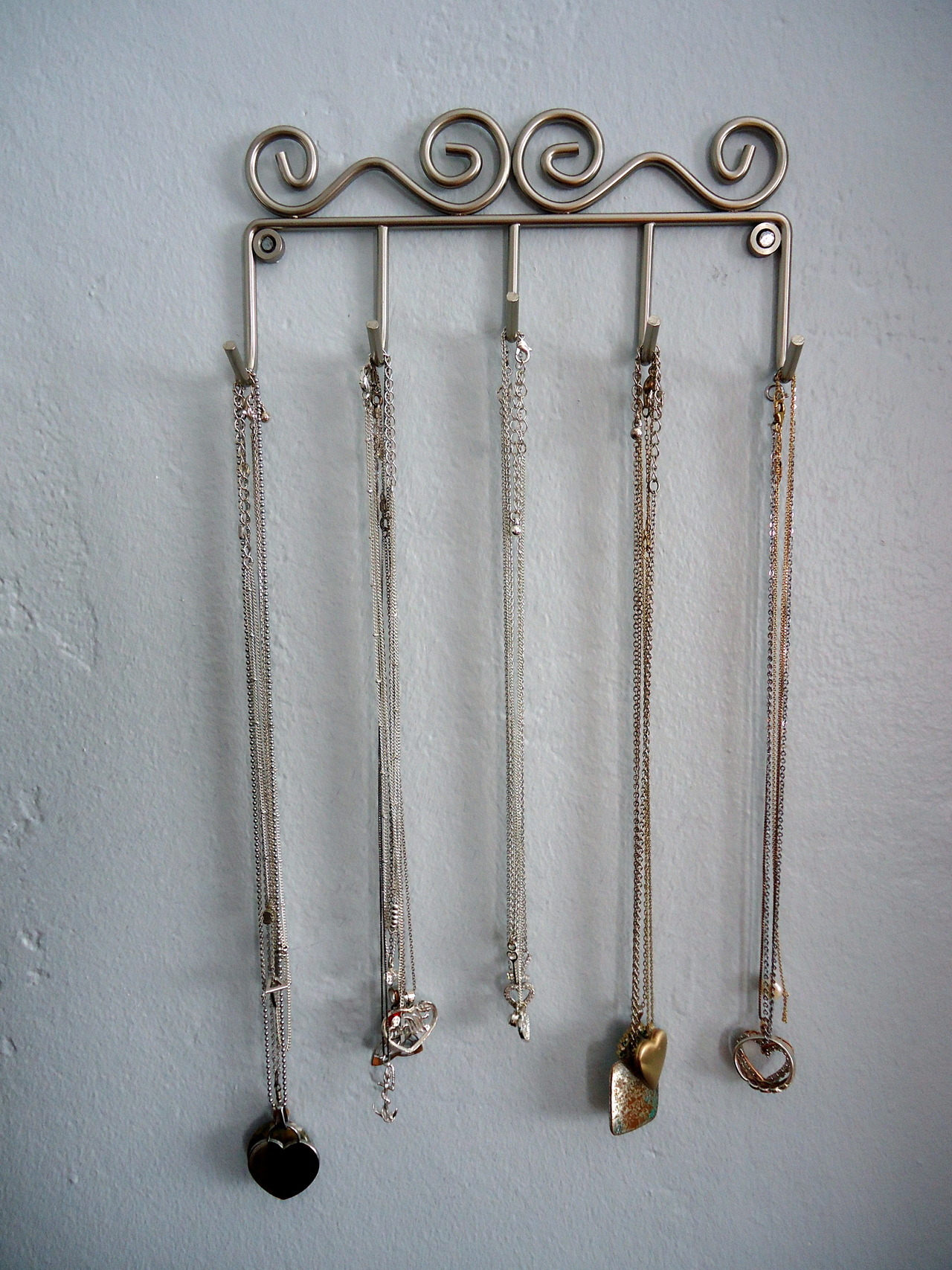 11/1/18
Rules to Clean By
- Always work top to bottom so dust and dirt continue to fall downward, and end with the floors
- Clean like items with like products: bathrooms together, wood furniture, glass, etc. so you can carry and use the same supplies throughout the house. This also works well if you don't have time to clean the whole house at once...one week you can hit the dusting, the next week you can concentrate on the glass, etc.

1-18-2020
Microfiber
This material is an all-purpose, no chemicals required cleaning tool, but needs to be cared for correctly for ultimate benefits.
Wash and dry separately from other items to eliminate the transfer of lint and hair to the microfiber cloths.
Launder in hot water and skip the fabric softener and dryer sheets (they tend to gum up the super grabby fibers).
8-24-19
Pantry Organization
1. Occasional: Stash intermittent-use appliances or seasonal partyware on highest shelves
2. Frequent: Specialty items used semiweekly (meal-planning or bakeware) should be accessible, just above eye level.
3. Every Day: Reserve kid-height shelves for lunch supplies, snacks, and other grab-and-gos.
4. Utility: Keep heavy pet food, cleaning gea
r & beverages low.
- Better Homes & Gardens, January 2019
5/29/19
Maximizing Space
A few shelves above the sink create more storage, show off beautiful bowls & collectibles, and offers great lighting for plants. Keep shelves same color as window casings or use glass shelving to maximize incoming light.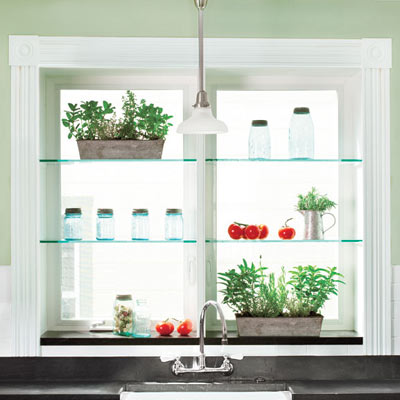 4/1/19
Image
© 2010 Helen Norman
2/15/19
Easy Organization
Command 3M Hooks are a great go-to for organization in just about every room of my home. They can be used anywhere, including the back of the bathroom door for towels, bedroom door for robes, in the shower for loofahs and washcloths, and children's rooms for hats, necklaces, etc. They have a variety of styles, including brushed nickel & clear so they fit in with any decor.
1/15/19
Dishwashers need to be cleaned too
Give your dishwasher a rinse every month: Empty it and remove bottom rack to access drain and get rid of any gunk inside. Fill a dishwasher-safe bowl with an upright cup of vinegar and place on upper rack. Run through a hot-water cycle. Sprinkle about ¾ cup of baking soda across bottom of dishwasher and run another hot-water cycle. - Woman's Day, November 2018
12/15/18
11/15/18
For every minute spent organizing, an hour is earned. — Benjamin Franklin
10/15/18